This store requires javascript to be enabled for some features to work correctly.
The art of custom jewelry design boasts an illustrious history, dating back to antiquity. From its earliest inception, jewelry crafted from natural materials like stone, wood and feathers were tailor-made to suit the preferences and sensibilities of individual wearers. Ancient civilizations like Egypt lavished their pharaohs with intricate and opulent gold and gemstone pieces. In Greece and Rome, bespoke adornments, ranging from exquisite pendants to charming earrings, graced distinguished patrons. Today, this ancient tradition continues deep in the heart of Houston at Thomas Markle Jewelers.
Indeed, Thomas Markle Jewelers upholds the belief that custom jewelry should be accessible to all, not just pharaohs and queens. Employing state-of-the-art technology and exemplifying pristine customer service, the experts at Thomas Markle Jewelers ensure that the custom design process becomes a seamless and gratifying experience for each customer.


Under the guidance of accomplished designers, custom jewelry is brought to life through a straightforward four-step process. The culmination of this artistic endeavor yields a treasure of unrivaled quality, destined to be cherished for generations to come.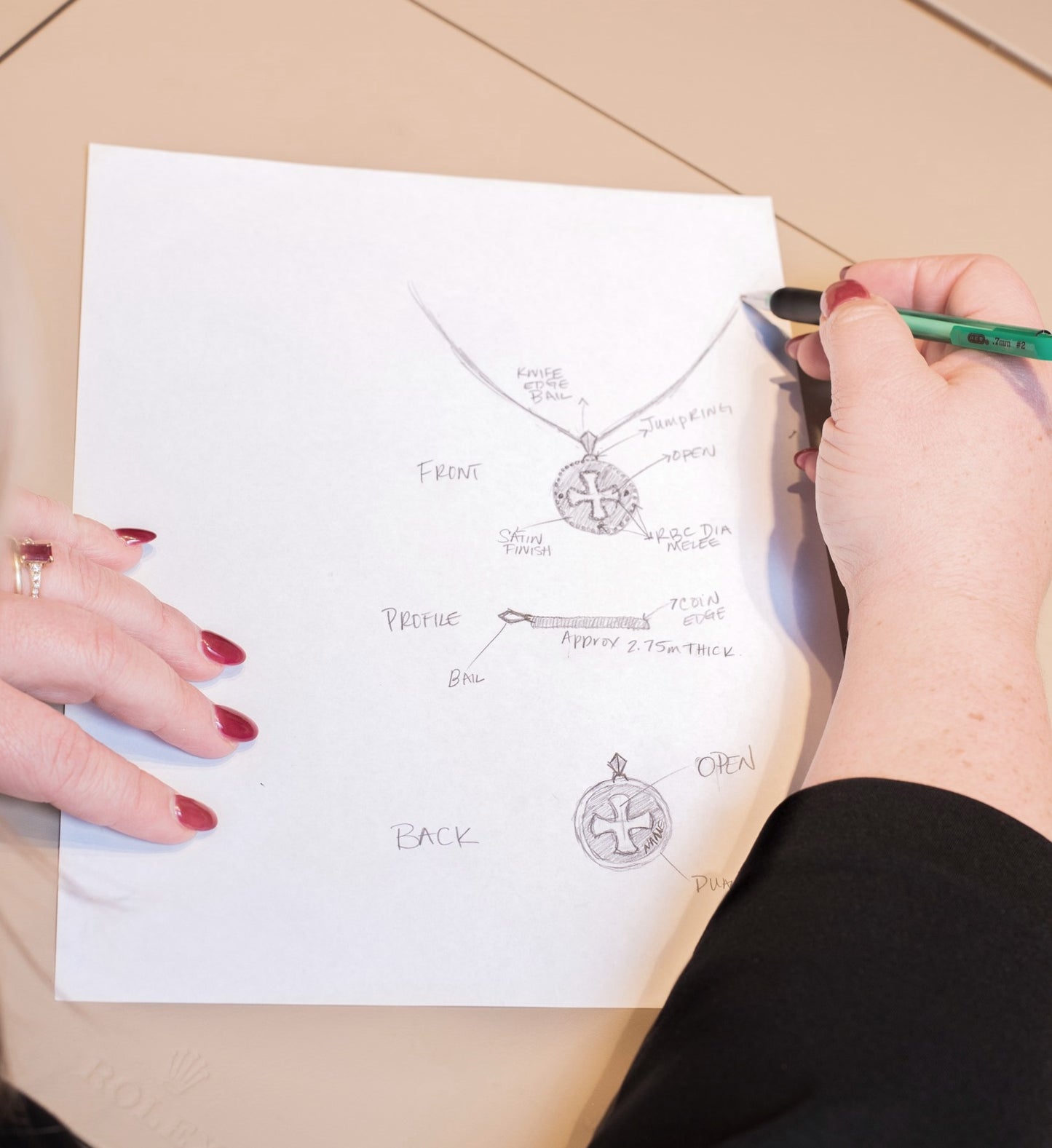 STEP ONE: DREAM
Clients are encouraged to bring sketches, pictures, or show their Pinterest boards to better illustrate their vision. If unsure of how to articulate their preferences, the skilled designers will assist in refining the initial design concept.
STEP TWO: DESIGN
After an initial sketch has been drafted, a Computer Aided Design (CAD) is created. This CAD shows a 3-D rendering of the piece. Once a CAD has been approved, a wax model will be cast and available to try on. Any further refinements will be made with this model.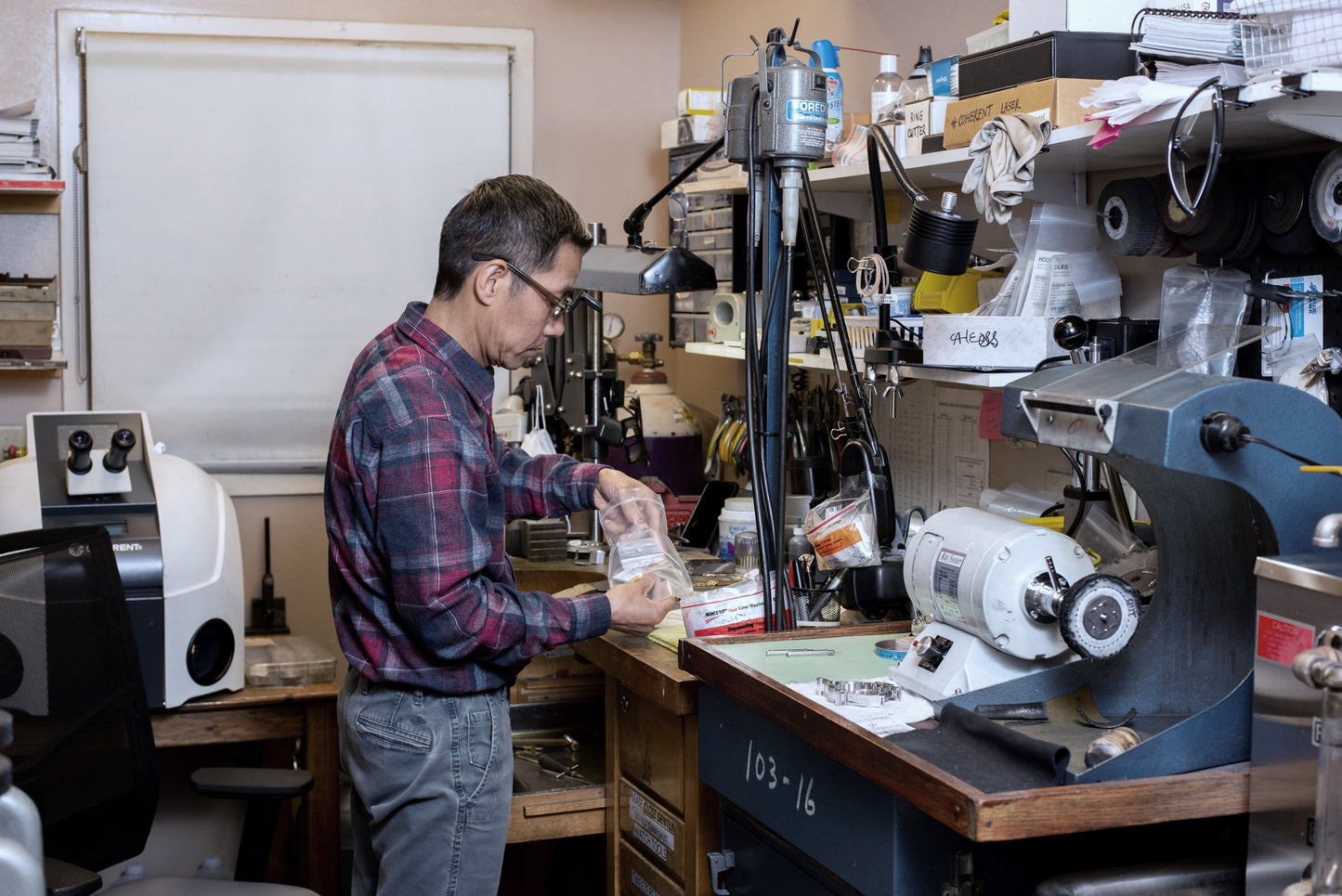 STEP THREE: CREATE
After the wax model is approved, the artisans will begin casting the design using the finest metals. Once the casting is complete, the gemstones are set and polished to perfection until the entire piece is ready to be unveiled.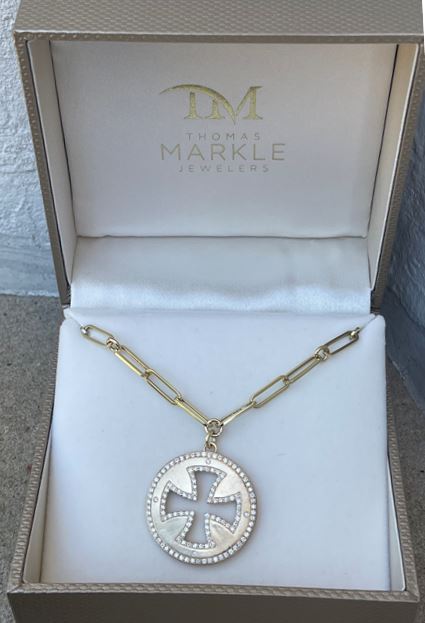 STEP FOUR: CHERISH
When the piece is ready, it's time for the much anticipated reveal of its final form. It will be ready to be held and put on, and for its luminous shine to be enjoyed. With Thomas Markle Jewelers, customers have the opportunity to create a stunning work of art that will be cherished for a lifetime.
Make an appointment today to get started on your own custom design piece.
Interested in a custom piece, or simply have a question?
Contact us
Testimonials
"We have been so pleased working with Bethany at Thomas Markle for purchases and/or repairs on jewelry. We've had several custom pieces created, and were very happy with how they turned out. Her expertise guided us to determine how to enhance the items we were working on. The recipients were elated to receive such meaningful and unique pieces."

Sandra Malone

"I've visited multiple jewelers and boutiques regarding engagement rings and Thomas Markle Jewelers is by far my favorite! I was greeted by Rebecca and when I let her know I didn't have that much knowledge regarding diamonds/rings she walked me through all the best options and explained the process of how these diamonds are sourced and graded. When I asked for band customization she immediately worked with me to have the the specific ones I wanted in store to see in three days! I mentioned briefly on my way in that I was also interested in Rolex models, and at the end of the ring consultation she immediately asked me which models I was interested in and then walked me through the models she had and gave me realistic expectations on when I could expect the watch. I loved how she gave me so much history about the family and company history, and even walked me through the entire store. The two and a half hours I spent there felt like 15 minutes. Thank you so much Rebecca for all of the help! I will definitely be coming here for all of my future jewelry/watch needs."

Brandon Yi

"I have done business with Thomas Markel Jewelry a couple times and it's been an amazing experience every time. Melissa custom designed an engagement ring for me and she was very supportive along the process. I also was on the waiting list for a Rolex and Melissa kept me informed during every new shipment till my watch arrived. She is always keeping me informed and I would highly recommend doing business with this jewelry store and Melissa."

Nick Park

"I had lost two diamonds out of my ring and Thomas Markle replaced them, cleaned the ring and redid the Rhodium plating on the ring . They did a fabulous job for a great price !! I will certainly use this jeweler again for repairs and new purchases . Thank you so much !!"

Diana Flanagan

"Essee is the man. He is so positive and just makes you feel good. I feel like buying out the store every time I'm there. I love people in sales that have passion and know their product. My wife and I have purchased 2 Rolex's and countless other items over the last 10 years or so. Hearts of Fire are the best. Great service. Always says let me clean your jewelry while you are here, unsolicited. Make an appointment, he is always with customers. Every time I go in there he is selling to someone. It never fails. Store has so many great pieces as well. Go eat at sixty vines next door after shopping too!!?

John Sawyer

"Dean provides awesome service, he's our go to guy. He walked us through the whole process of getting a diamond wedding ring custom made and designed. The 2 carat stone they sourced is beautiful and probably makes my wife's friends envious."

Adam Gorelick