This store requires javascript to be enabled for some features to work correctly.
Purchasing a diamond is an indelible experience. As with any significant investment, it warrants contemplation and discernment. Central to this process is the opportunity to engage with the product through actually seeing it in person. The moment when an individual lays eyes upon their prospective diamond is unforgettable. Such moments are precisely why customers seek the unparalleled shopping experience offered by Thomas Markle Jewelers.

An understanding of diamonds is crucial before committing to one forever. The 4C's of diamonds comprise a framework for knowing the distinctive characteristics of these mesmerizing stones, empowering individuals to make a choice that aligns with their desires and preferences. By acquainting themselves with these characteristics, prospective buyers are equipped with the knowledge necessary to embark confidently on their quest for the perfect diamond.
What Are the 4C's?
The 4C's are simply the four characteristics by which diamonds are evaluated. These qualities include cut, color, clarity and carat weight.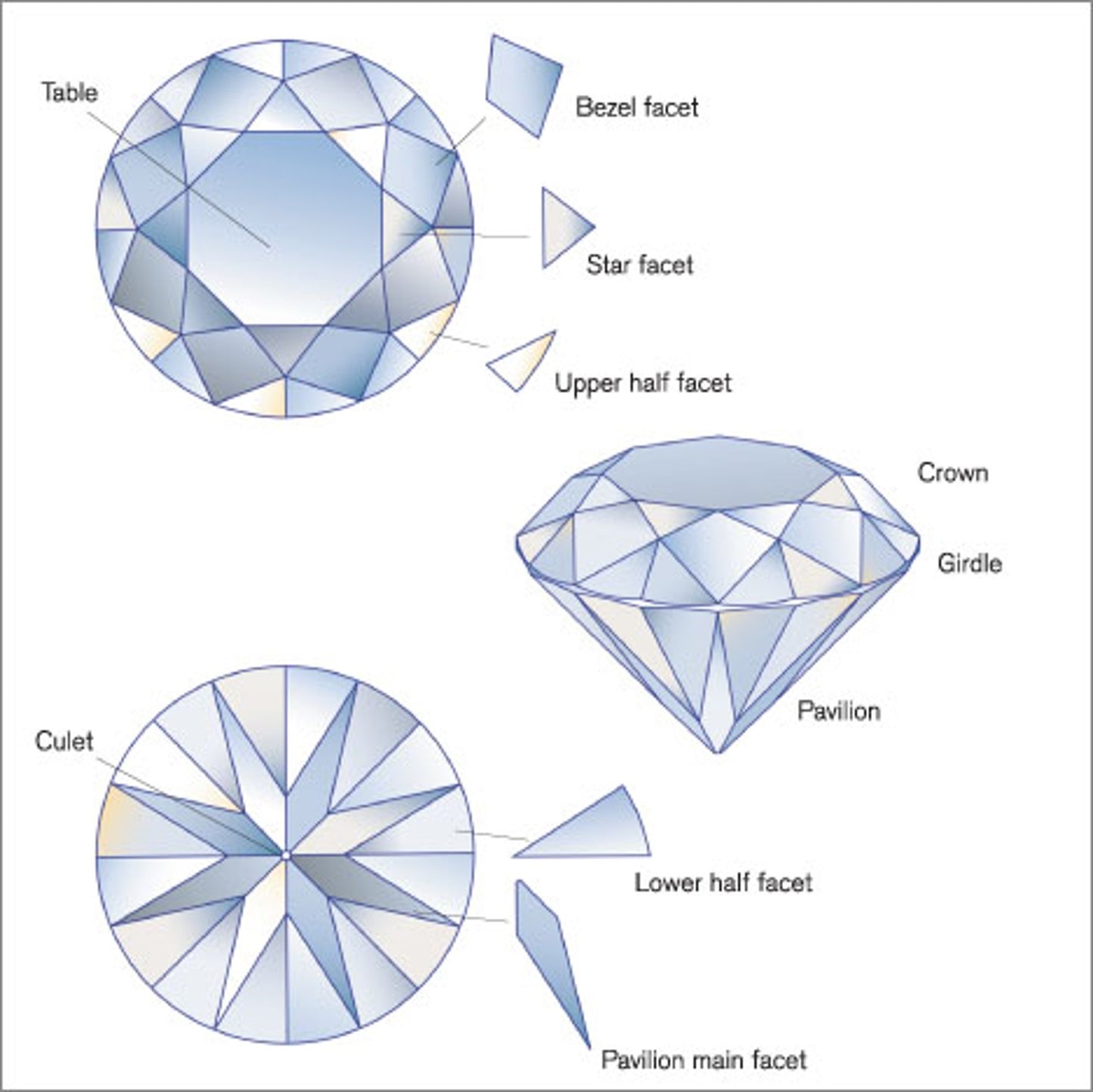 Cut
As the most important attribute in revealing a diamond's true beauty, the cut is what gives a diamond its sparkle and fire. Although all elements of the 4C's are important, the cut adds the most value to a diamond. A diamond's cut refers to two features: the quality of the cut and the shape of the diamond.

The cut enables a diamond to make the best use of light. A poorly cut diamond, whether cut too shallow or too deep, will lose much of the light entering the stone making the diamond appear dull and lifeless. An ideally cut diamond will reflect and refract more light, resulting in a brilliant diamond that looks larger and reflects luminous white light and all seven colors of the rainbow.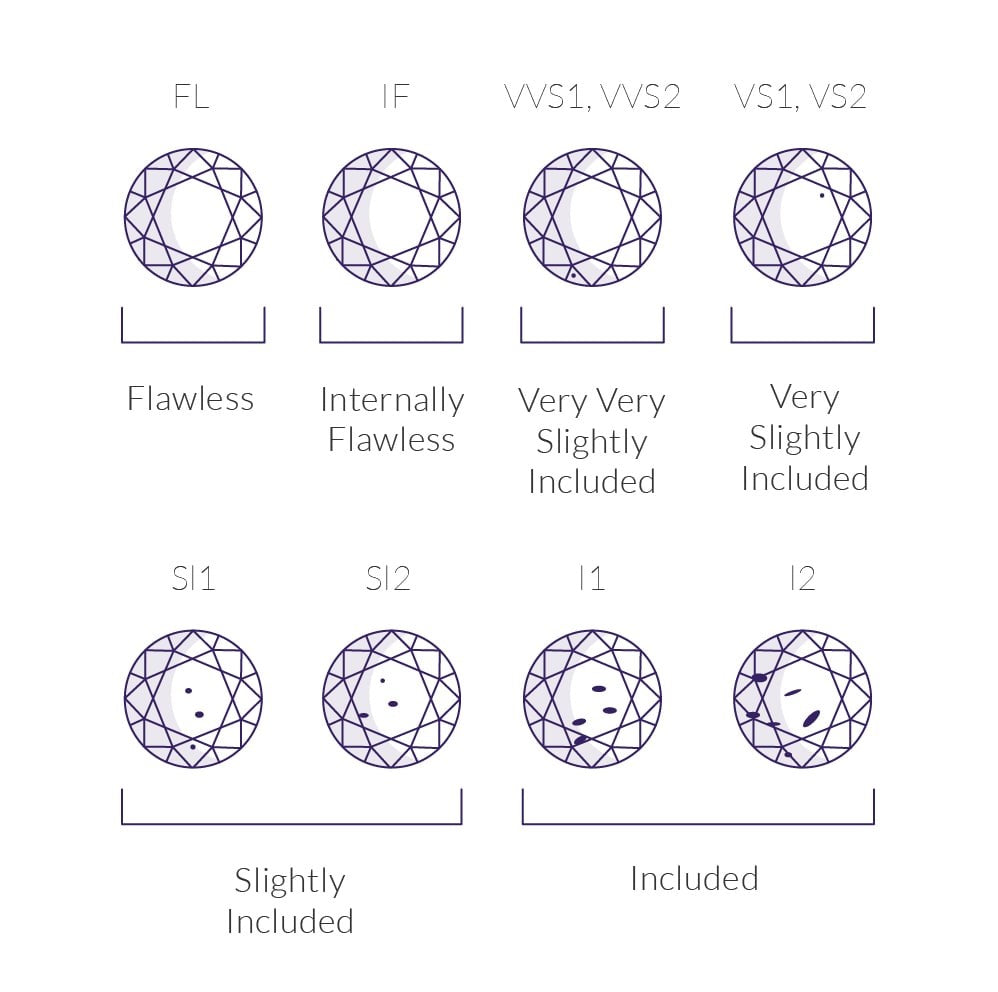 Clarity
Diamonds have been naturally created through millions of years of extreme heat and pressure. Over the years inclusions or imperfections in the diamond are often formed in the process. These characteristics may appear as miniscule crystals, clouds or feathers often difficult to see with a naked eye. The location and amount of the inclusions affect a diamond's value and fewer inclusions means greater value. 
Each Thomas Markle Jewelers' diamond is certified with a "plot" that determines its specific inclusions. This allows each stone to be compared by uniqueness and clarity, and guarantees that the diamond paid for is the same diamond received.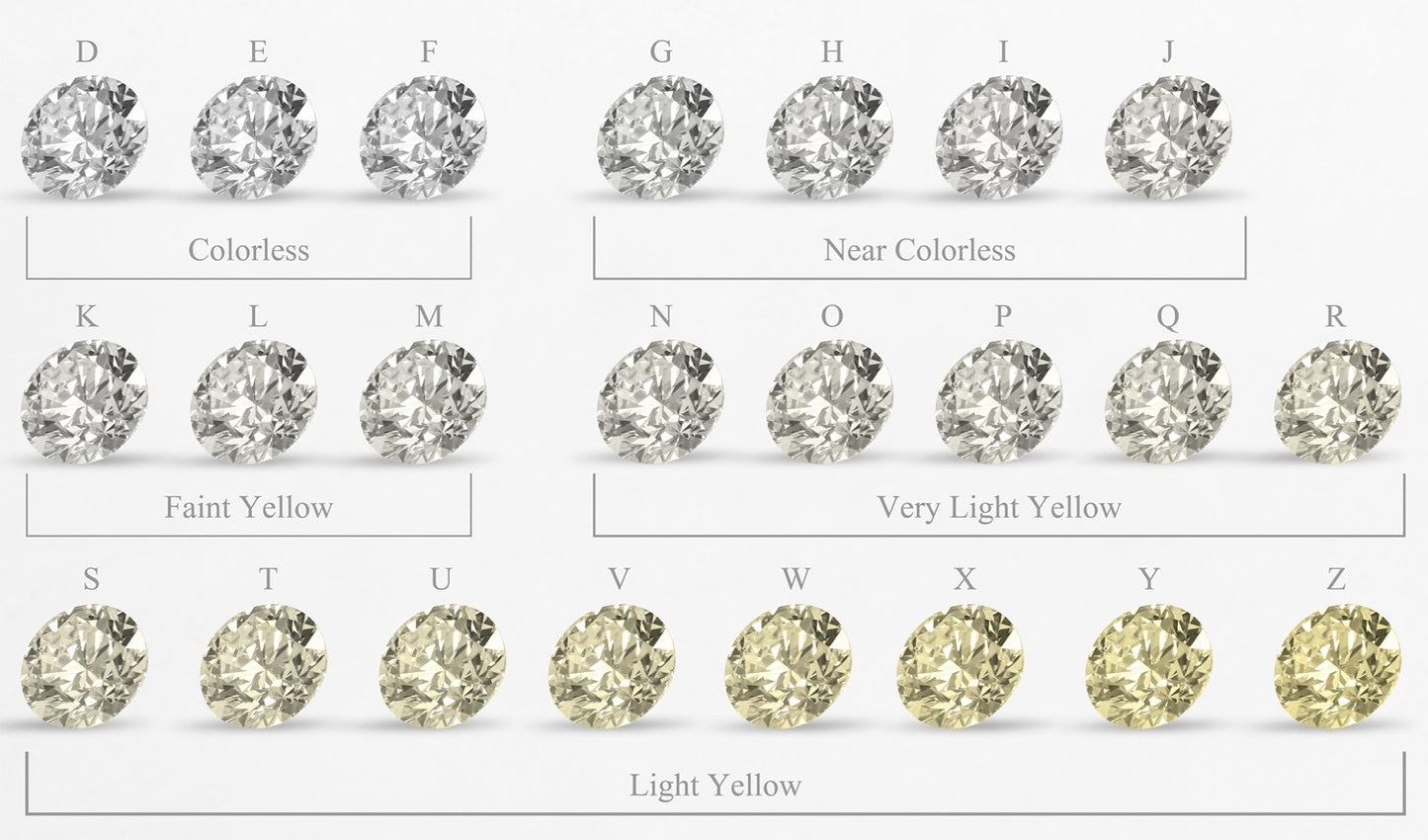 Color
When judging the color of a diamond, it is actually a lack of color that is graded. White diamonds are graded on a letter scale from D to Z, with D classified as colorless and Z classified as noticeable color. As one moves down the color scale, a white diamond becomes warmer in color, showing faint to light colors of yellow, gray, and/or brown. A diamond's value decreases as one moves down the color scale from D to Z, but begins to regain value towards the end of the scale as rarity increases. Known as "Fancy Yellow", these yellow diamonds are uncommon and highly valuable.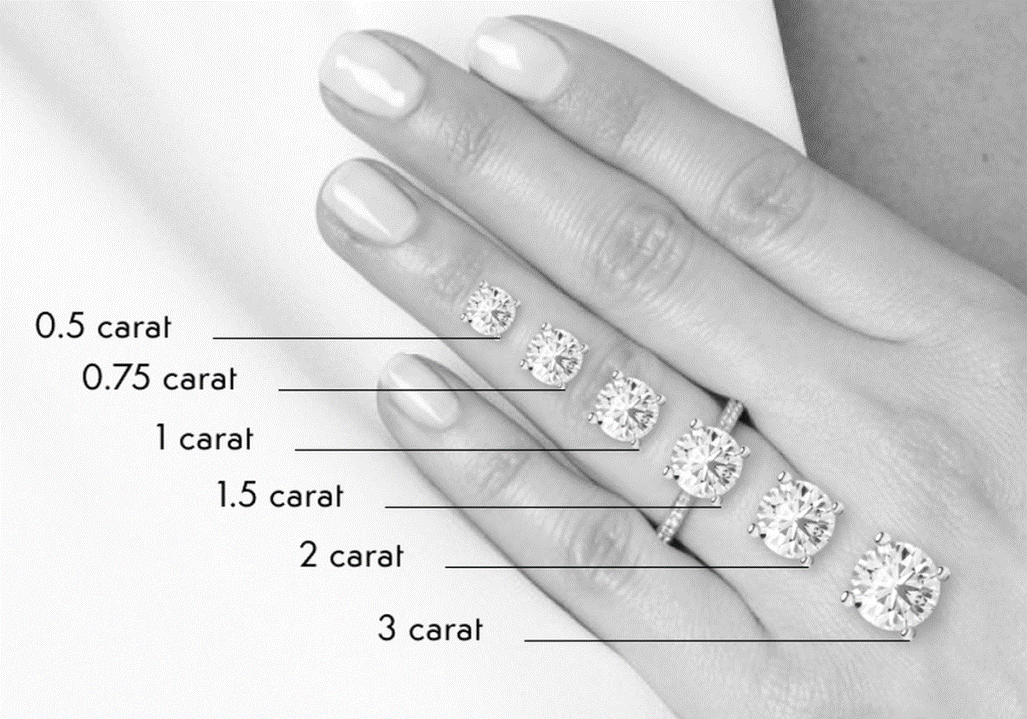 Carat Weight
Often mistaken for size, a diamond's carat is a measurement of weight. The weight of a diamond is expressed in points or carats. A 1 carat diamond equals 100 points, and a ½ carat diamond equals 50 points, etc. Generally as a diamond's weight increases, so does its rarity and value. 

The process that forms a diamond happens only in very rare circumstances, and typically the natural materials required are found in only small amounts.  Larger diamonds are uncovered less often than smaller diamonds, making them more valuable.
Exploring The Differences
When it comes to diamonds, few things can evoke the same feeling of luxury and romance. For generations, diamonds have been regarded as the ultimate symbol of beauty and status. But today, a new trend is starting to emerge in the diamond industry: lab grown diamonds.

Some customers see lab grown diamonds as a more cost-effective option. However, there are still many who hold on to the idea that only natural diamonds can truly capture the beauty and rarity of these gems.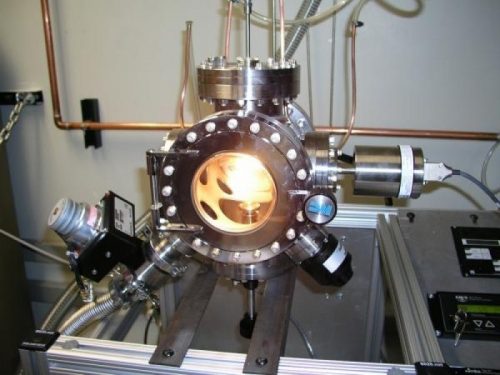 What Are Lab Grown Diamonds?
Lab grown diamonds are made from carbon, which is subjected to high pressure and high temperature conditions inside a diamond-growing apparatus. This process mimics the natural formation of diamonds that takes place over millions of years underground. As a result, lab grown diamonds have the same physical, chemical and visual properties as natural diamonds.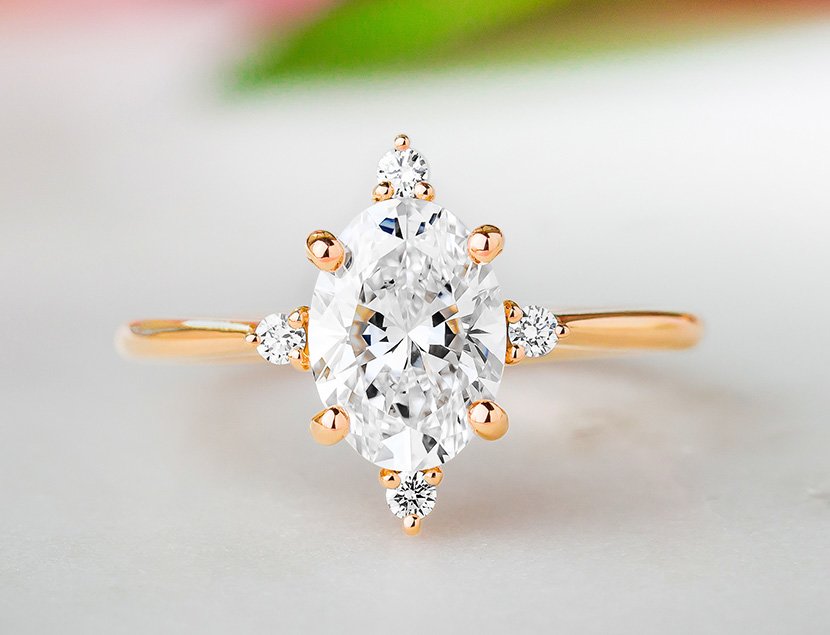 How Do They Compare to Natural Diamonds?
On a microscopic level, lab grown diamonds are nearly identical to natural diamonds. They share the same chemical composition, crystal structure and hardness. However, they may have slight differences in color and clarity. Natural diamonds are formed under unique geological conditions, which can result in different kinds of inclusions, whereas lab grown diamonds are created in a controlled environment, which tends to produce cleaner crystals.
Natural Diamonds VS Lab Grown
Lab grown diamonds are essentially identical to natural diamonds in terms of their physical properties. To the naked eye, they look indistinguishable from natural diamonds. They have the same brightness, fire and scintillation that makes diamonds so coveted. However, some people argue that there is something intangible about a real diamond that a lab grown diamond cannot replicate.
One of the attributes of lab grown diamonds is that they are less likely to have as many internal inclusions or fractures. This can make them more durable and resistant to damage. However, it's important to note that both natural and lab grown diamonds are incredibly durable and can withstand a lot of wear and tear.
One of the key appeals of lab grown diamonds is their price. They are typically less expensive than natural diamonds of the same carat weight and quality. Some customers see this as an opportunity to buy larger or more elaborate designs than they might be able to afford with natural diamonds. However, it's worth noting that the cost of a diamond is not solely determined by its carat weight and quality. Natural diamonds hold value over time and can even appreciate in value. Lab grown diamonds, however, do not.
Loose Diamonds at Thomas Markle
Thomas Markle Jewelers has an impressive array of sizes and qualities when it comes to loose diamonds. These exquisite gemstones can serve as breathtaking centerpieces for engagement rings to delicate accents for  resplendent necklaces and more. The profusion of choices available to customers promises an unparalleled selection, catering to every unique taste and preference.